Echo....I am sooooo all about a challenge. DeeDee? How dare you doubt me? LOL.....
THE LAST CD YOU BOUGHT?
Little Brother (They are the truth...EVERYONE go get their CD)
WHAT TIME DO YOU WAKE UP IN THE MORNING?
It varies really. My schedule flip flops
WHAT IS YOUR FAVORITE KITCHEN APPLIANCE?
Ummmm....the frig! Its where my applesauce is!
IF YOU COULD PLAY AN INSTRUMENT, WHAT WOULD IT BE?
Acoustic Guitar......soon!
FAVORITE COLOR?
Black baby.....Black!
FAVORITE CHILDREN'S BOOK?
Charlotte's Web....it's the one I remember most.
WHAT IS YOUR FAVORITE SEASON?
Fall
IF YOU HAVE A TATTOO, WHAT IS IT?
None. I cant think of anything that I wouldnt get tired of eventually
IF YOU C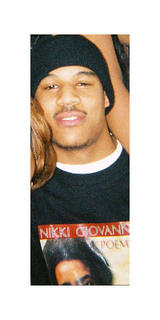 OULD HAVE ONE SUPERPOWER, WHAT WOULD IT BE?
X-Ray vision...and I promise MOST times I would use it for good.
ONE PERSON/PEOPLE FROM YOUR PAST YOU WISH YOU COULD GO BACK AND TALK TO?
My father
WHAT IS UNDER YOUR BED?
Mael's flip flops, some CD's and some socks
WHAT'S YOUR FAVORITE DAY?
Easy like Sunday morning....The Commodores were on to something there
WHICH DO YOU PREFER, SUSHI OR HAMBURGER?
Turkey burger?
WHAT IS YOUR FAVORITE FLOWER?
What ever they make potpurri (sp?) out of. That shit smells good!
DO YOU LIKE YOUR JOB?
2 years next month....it certainly seems like it
WHAT IS YOUR DREAM JOB?
Songwriter, Programmer of a TV station
THREE THINGS YOU LIKE ABOUT YOURSELF:
1. My ability to make friends fast. 2. My passion. 3. My biiiiiiig ol' heart
THREE THINGS YOU DISLIKE ABOUT YOURSELF:
1. My ability to make friends fast. 2. The bridge of my nose. 3. Procrastination
THREE OF YOUR EVERYDAY ESSENTIALS:
1. Music. 2. Food. 3. Smiles
THREE THINGS YOU ARE WEARING RIGHT NOW

:
1. No underwear (ROFLMAO!) 2. Suit and Tie 3. Shoes and socks?
THREE OF YOUR FAVORITE BANDS/ARTISTS (AT THE MOMENT):
1. Little Brother 2. Leela James 3. Kanye West
THREE NEW THINGS YOU WANT TO TRY IN THE NEXT 12 MONTHS:
1. Look into buying a condo 2. Put together my family reunions 3. Get a song published
THREE THINGS YOU WANT IN A RELATIONSHIP (LOVE IS A GIVEN):
1. Patience 2. Kindness 3. Spontaneity (sp?)
THREE PHYSICAL THINGS ABOUT THE OPPOSITE SEX (OR SAME) THAT APPEAL TO YOU:
1. Eyes 2. Smile 3. Overall body (Does she have lips, hips and tips? LOLOLOL)
THREE THINGS YOU JUST CAN'T DO:
1. Not listen to music 2. Give up! 3. Turn my back on family
THREE OF YOUR FAVORITE HOBBIES:
1. Collecting music and books 2. Seeing live music performed 3. Putting on concerts in my shower